Luneburg, Germany
Added: 2017-06-23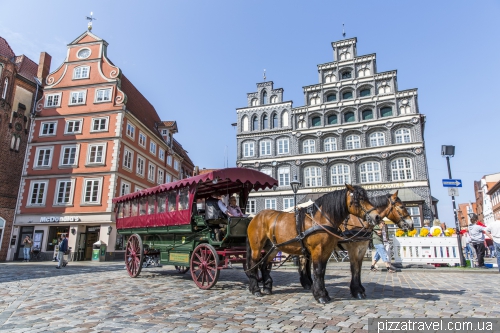 Lüneburg is a small Hanseatic city in Lower Saxony. The city was a salt trader and important economic center because of its geographic location near Lubeck. As you know, salt used to be very important and expensive in former times as it was used in many processes, in particular, allowed long-term storage of food. Therefore, cities with salt had a good income, read more...
Scharnebeck twin ship lift, Germany
Added: 2017-06-22
One of the most unusual structures in Germany is located in Scharnebeck. The lift for river ships was built in 1974 and it is the world's largest double lift (in 2016, China built a single lift, about 2.5 times bigger than this one, video), read more...
Light-musical fountains on the Rusanivka channel, Ukraine
Added: 2017-06-21
On a warm summer evening, be sure to visit one of the most romantic places in Kyiv - light-musical fountains on the Rusanivka channel.

Fountains are located on the channel that surrounds one of the world's first urban artificial islands. Rusanivka was established in 1961, as an exemplary residential area, read more...
Tianmen Mountain, China
Added: 2017-03-14
Tianmen Mountain is a popular natural tourist attraction. It can be reached by the longest cable car in the world (2017) from the center of Zhangjiajie city, read more...
Shanghai, China
Added: 2017-03-05
When visiting Shanghai, you need to understand the main thing - 24 million people live here and this is the largest city in the world in terms of population (wiki). It is also included in the TOP20 cities by the number of international tourists (~8 mln per year). But the main fact is, read more...
Carnival in Hannover, Germany
Added: 2017-03-02
Hanover Carnival is held since 1992. It lasts for several months, starting in November, and includes dozens of events, but this article is about the carnival procession, read more...
Prague, Czech Republic
Added: 2017-02-22
Prague is one of the most hyped tourist cities of Europe. With 5.81 million tourists in 2016, it is in the list of TOP20 most visited cities of the world (link, PDF, 21 Mb).

We were here for two and a half days. Without visiting museums, this time is enough to visit all the interesting places. Get ready to walk a lot and use public transport or taxi, read more...
Skopje, Macedonia
Added: 2017-02-11
The capital of Macedonia Skopje is not the most touristic destination of the country. The city has a

troubled history

, a few times it was completely destroyed by the earthquake. In 1963 there was another devastating earthquake and 80% of the buildings were completely destroyed. Since then the city has been rebuilt, there were few projects. In 2010, was started the last project, which received mixed reviews, even from Macedonians. 500 million euros were already spent and locals say that most of the money was stolen, read more...
Ohrid, Macedonia
Added: 2017-02-07
Ohrid is the most famous Macedonian resort. It is a small town on the shores of a huge lake, surrounded from all sides by high mountains. The location is very picturesque and quite popular. The city and the lake are included in the UNESCO World Heritage List. If you arrive in Macedonia only for one day, spend it here, read more...