Sankt Peter-Ording, Germany
Added: 2017-09-13
St. Peter-Ording is the mayor resort of Schleswig-Holstein, the only seaside resort in Germany with a sulphur spring. The geography of this place is very interesting. The coast is very flat and tides can be up to 3 meters. Therefore, between the sandy beach and the hotels is a 1 kilometer buffer zone, read more...
Westerheversand Lighthouse, Germany
Added: 2017-09-11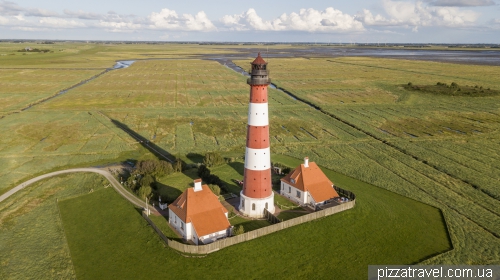 The Westerheversand Lighthouse, built in 1908, is the most famous lighthouse in Germany and a symbol of the north of the country. Stands in the middle of the fields with absolutely nothing for a few kilometers around. Two identical houses are built near the lighthouse, in one of them there is a local registry office. The place is very unusual and worth a visit, read more...
Sylt Island, Germany
Added: 2017-09-10
If you think that the most expensive real estate in Germany is in Munich or in Hamburg, you think wrong. The three most expensive streets of the country are located on the island of Sylt in the North Sea, read more...
Gluckburg Castle, Germany
Added: 2017-09-10
Glücksburg is the northernmost castle in Germany. It was built in 1582 in the middle of a lake in the city of the same name. Over the centuries it was one of the most important family seats in Northern Germany. Here lived Dukes of Schleswig-Holstein and, occasionally, the Danish kings, read more...
Buxtehude, Germany
Added: 2017-09-08
Buxtehude is a small town in Lower Saxony. It is included in the national Fairy tales route thanks to the tale of William Schroeder "The Hare and the Hedgehog". It became widely known after Brothers Grimm included it into their tales, read more...
Riomaggiore, Italy
Added: 2017-08-28
Riomaggiore is one of the five picturesque towns in the Cinque Terre. The nearest to La Spezia, so most tourists start the visit from this place. This is the most romantic town and in the evening a lot of people are waiting for sunset on the embankment, read more...
Portofino, Italy
Added: 2017-08-28
Portofino is one of the most picturesque towns of the Italian Riviera and extremely popular. Especially popular among the stars. It started in the 60's, when they began to come here for parties and recreation. Photos and stories filled newspapers and magazines, and the resort became a symbol of luxury life, read more...